With the changes over the last couple of years, the Oilers have transformed their powerplay from one traditionally in the middle-of-the-pack to a potentially top-5 man advantage in the league. Here are some PP possibilities for this upcoming season
First Unit
This is kind of like the "Umbrella" the Oilers set up in the 2006 playoffs, with Souray in Pronger's spot, Visnovsky in Spacek's, Penner in Smyth's, and Gagner in Samsonov's. I'm anticipating a plethora of point shots coming from this unit, and for that reason I think it's important to have a guy like Penner in front of the net to set screens and clean up rebounds. It's tough to choose between Horcoff and Gagner here, because Horcoff could work the boards so much better, but Gagner's simply got too much offensive instinct, and would work well with Hemmer down low, as well as with Visnovsky on the right side.
It's important that Visnovsky retains that right side point position. He'll be able to shoot and distribute from there. Souray can play the top of
I think this is the general consensus for the 1st unit, you'll occasionally see Horcoff in for Gagner to handle the tough puck work behind the net, and see Cole play Penner's spot to add more of a shooting touch to that near right side.
Second Unit
This is basically a poor-man's attempt at replicating the PP the Oilers had just before the Horcoff injury. Remember, this unit was starting to make some progress before the injury, so it shouldn't be too bad. Nilsson replaces Hemsky, Cole replaces Penner, and Grebeshkov replaces Pitkanen. Horcoff provides some puck-possession and play-making from the right boards, and Gilbert that point shot. Grebeshkov will be a middle-man, and should play "rover" a lot on this unit, sneaking down for tap-in's. Nilsson on the left side is something we haven't seen much of (he's usually on the right), but as a RW he should be fine playing a Hemsky-esque role from that side. It'd be interesting to see how he'd do with a cross-ice pass to either Cole or a crease-crashing Horcoff. Cole in the slot there is something the Hurricanes used, with a lot of passes coming to him from behind the net or the sideboards from Staal or Whitney. He could also play that Penner role in front as well, but I think he's more suited to the shooting from the slot.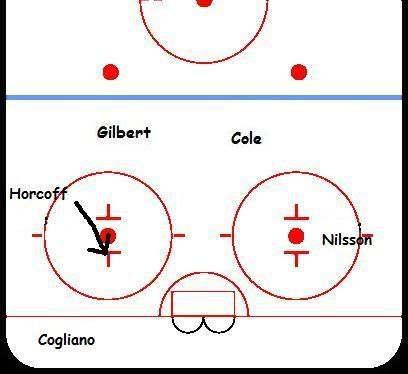 Here's another possibility, which uses the 4-forward set up. Cole has a decent slapshot, and could be a one-timer option there on the point with Gilbert, or could move down a little for a set up from Nilsson. He's also good at playing that "middle-man" spot mentioned above, and can be relied upon to back-check if there's a turnover. Basically, he'd be playing a Stoll role. I think the main focus of this unit will be the cycling between Horcoff and Cogliano and the playmaking of Nilsson. It's just another option I'm throwing out for the second line. It kind of reminds me of the 2nd unit from last season, where there was no real presence in front of the net, just a lot of cycling and quick passes until a hole formed.